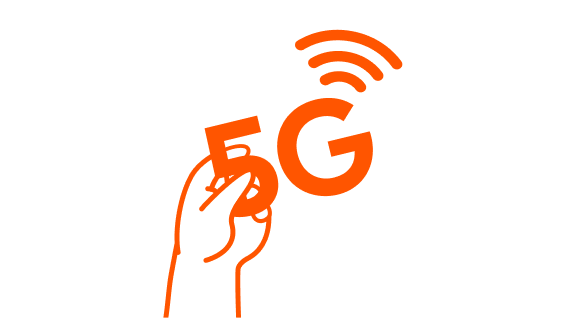 INTRODUCING 5G
5G is the exciting fifth generation of mobile network technology with the potential to create never-before-seen opportunities for people and businesses. As the 5G network matures, it will be faster, more responsive and have higher capacity, so you can get more out of your mobile experience.
With more of us working and learning from home, the fast speeds and improved bandwidth of 5G will assist in transforming industries and dramatically enhancing your day-to-day experiences.
Features
Super-fast download speed
Increased connection capacity
Features
Switch into high-gear with our super-fast 5G network.
Features
Supports more simultaneous connections.
Features
Less time loading 'real-time' applications
The Optus 5G mobile network is currently available in selected areas across Australia.

Check out our coverage map for the latest updates on 5G availability in your area. 

Your device will switch between the 3G, 4G and 5G networks as you move between different coverage areas. '5G' will display on the top of your home screen when you're connected to 5G.
To enjoy the benefits of 5G, you'll need:
A compatible plan
A 5G compatible handset
5G coverage
Your device will switch between the 3G, 4G and 5G networks as you move between different coverage areas. '5G' will display on the top of your home screen when you're connected to 5G.
Depending on the 5G mobile device you're using, it should be a case of simply going into the network settings of your phone, and making sure 5G has been switched on.

If you're unable to find this, either refer to the manual of your respective phone or do a quick google search on how to enable 5G on the device you're using. 
If you're new to amaysim

If you're coming across to amaysim from another provider, the process to switch is straightforward.

Make sure you have a 5G enabled mobile device which is on our list of eligible devices, check your local 5G coverage and then select buy now next to your chosen amaysim 5G mobile plan. During the signup process, you can choose to bring your existing phone number across or select a new one.  

If you're an existing customer 
You can switch via the amaysim app. Just make sure you're using the most up-to-date version of the app. 
A 5G capable mobile device is required and you'll need to be located in a 5G coverage area to enjoy 5G performance.
Changing to a 5G plan via the app 
Swipe up from the bottom of the home screen in the amaysim app
Select manage your plan and then change your plan;
Toggle across to view the available 5G plans
From July 3rd 2023, new and existing customers on amaysim's $30, $40, and $50 Unlimited Mobile Plans will automatically receive 5G network access included in their mobile plan at no extra cost. There will be no change to your existing plan cycle or plan cost - but please note that download speed caps apply. You don't need to do anything, the changes will apply from your next renewal after 3rd July.
No need to worry, you'll continue to access the 4G network as normal if your device doesn't support 5G or you're not in a 5G coverage area.
If you're interested in owning a device that is 5G-compatible, check out our device store.
You can control this via your mobile handset. The process may vary depending on the device you have and the operating system you're using. 
Consult your phone manufacturer website for specific instructions.
Two popular operating systems:
APPLE DEVICES - iOS 16
1. Open Settings.
2. Tap "Mobile Data Options
3. Tap "Voice and Data"
4. Tap "Voice and data"
5.You will see three options - 5G, 5G (Auto) and 4G
6. Select "4G" to turn off 5G access.
SAMSUNG GALAXY S21, S22, S23
1. Navigate to Settings > Connections > Mobile networks.

2. Select Network mode.

3. You should see different network modes here. Select LTE/3G/2G (auto connect) from the list.

4. This will disable 5G connectivity on your Galaxy S21, S22, or S23 and limit connectivity to 4G LTE or lower networks.

5. You can also set your Galaxy smartphone to only connect to 4G networks. Select the LTE only option from the network menu.


OTHER POTENTIAL SOLUTION FOR NON-APPLE AND NON-ANDROID DEVICES
1. Open the Settings app.
2. Tap SIM Card & Mobile Data.
3. Tap your SIM.
4. Tap Preferred Network Type.
5. Select 4G/3G/2G (Auto)