Activate my SIM
Thanks for choosing amaysim. You will need to have your SIM handy to get started.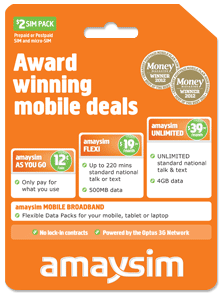 Bought online?
If you bought a SIM online just follow the steps below, you'll just need to know which delivery service you selected. Don't forget if you are bringing your number to amaysim you'll also need to start the number transfer in My amaysim.
3 Hour Delivery: Go to My amaysim and enter your SIM number (ICCID) to complete your activation
Next Day or Standard delivery: Just pop out the amaysim SIM card and put it into your mobile, tablet or laptop.
Bought at a retail store or through The Mobile Shop?
If you bought your amaysim SIM from a retail store or through The Mobile Shop you'll need the following info to activate:
Your amaysim SIM Pack
Your personal details (i.e. name, residential address)
Credit/debit card or bank account details for direct debit.
An unlocked mobile, tablet or mobile broadband device
If you are bringing your number we need a few more details:
If you are bringing over a Prepaid service you will need to enter your Date of Birth
If you are bringing over a Postpaid service you will need your account number which can be found on your currents providers invoice.
Choose from our mobile and data products below, click "Activate" and follow the steps.
Activate a Mobile Plan
Activate a Data Pack
Our 'No Worries' mobile deal – with a whopping 5GB of data.
We're making amaysim UNLIMITED even bigger than before. From 1 September you'll get 5GB of data,
unlimited standard calls, unlimited standard SMS and MMS, unlimited calls to 13 & 18 numbers and
unlimited voicemail, all Australia-wide for $44.90 per month.
We reckon it's one of the best unlimited mobile deals for one of the lowest prices in Oz. With 5GB of data,
you get some data breathing room, making it easier for you to do more of the stuff you love without breaking the bank.
If I order my sim now, then what?
Starting from 1 September 2014, as each person's amaysim UNLIMITED renews we'll automatically move you on to the
new amaysim UNLIMITED if you're set to auto renew.